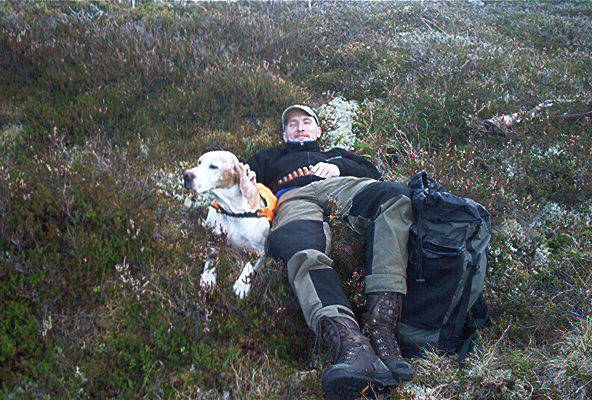 Likko`s Doxey and Tommy relaxing in a lunchbreak (Picture by Eivin Sætre)
Kennel TUNRYPA are going to breed Pointer and German Longhaired Pointer. I se this as the ultimate combine for hunting, with the German Longhaired Pointers good search in the forest and heavy vegetation, and the pointers pace and intensity in open fields.
Kennel TUNRYPA laying at Lyngstad in EIDE commune, a little place between Kristiansund and Molde in Møre og Romsdal county in Norway.
Kennel TUNRYPA was authorized the 14.06.2007.
Kennel TUNRYPA working together with Kennel RAKKELSKOGEN, that breeds German Longhaired Pointers. The picture in the logo is taken by Christina Sætre.
Kennel TUNRYPA:
Owner:
Tommy Sætre
6493 LYNGSTAD
e-post: post@tunrypa.com